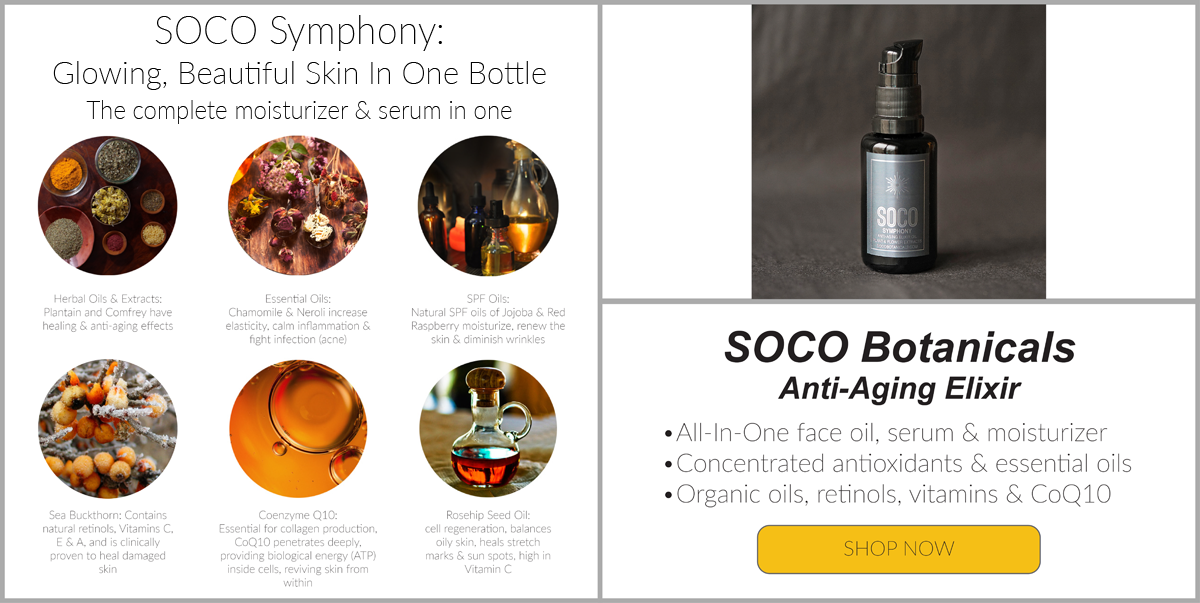 Bring your life into balance by loving your skin.
Restore radiance and beautiful skin tone over time with SOCO Symphony anti aging concentrate & treatment serum. CoenzymeQ10, a naturally occuring coenzyme, helps boost collagen and reduce the appearance of wrinkles and sun spots, providing a more even looking skin tone. SOCO Botanical's own aromatherapy blend of plant extracts and oils with Sea Buckthorn, Rosehip, Argan, Red Raspberry Seed Oil, Pomegranate, Jojoba, Neroli, Helichrysum & other pure plant and flower essences.

Nutrient concentrate all in one bottle: Just cleanse your skin and use SOCO Symphony twice a day as your moisturizer with nothing else. 100% active ingredients, 100% nontoxic.

Contains Coenzyme Q10 - Combats Aging, Stimulates Cell Repair & Collagen Production

CoQ10 is an amazing natural antioxidant enzyme our bodies produce that fights free radicals, fortifies the skin against stress, and regenerates the cells. After age 30, our bodies produce less CoQ10, which starts the decline of aging. Supplementing with CoQ10 both topically and internally is a wonderful protector of cells, including the skin, heart & brain.

A study in Germany reported that use of CoQ10 reduced wrinkles around the eyes, and is is used internally for supporting the body's ability to heal and regenerate. Essential for collagen production, topical CoQ10 penetrates the skin deeply, providing biological energy (ATP) inside the cells, reviving and renewing the skin from within.

All SOCO Botanicals in an innovative skin care company from Austin, TX. Our facial products are highly concentrated with effective anti aging botanicals, essential oils, and are "All-In-One" products, meaning that the Black Lava scrub is also a mask, SOCO Symphony also replaces the moisturizer & eye cream, and the Citrus Gem Face Wash has skin toning cucumber extract, and a gentle fruit enzyme exfoliator in it, so you won't need any enzyme peels or spray toners. This means you can clean out your cabinet and just use a few, high quality, natural, nontoxic, anti aging, effective products for your skin.
Here are the Top 8 MUST HAVE Oils for great skin, all in one bottle of SOCO Symphony Face Oil Serum.