SCARLETT OLSON, FOUNDER
SOCO Botanicals is a beauty brand that brings out your own natural beauty by giving your skin super concentrated nutrition it thirsts for to look and feel your best.
We are not a beauty brand that covers up who you are with layers of makeup and gunk, and we do not use health-hazardous chemicals to give you short term results for long term damage.

We believe in restoring radiant health with powerful, anti aging skin nutrients at a super high concentrated level: more concentrated than other skin care brands do, and this high concentrated nutrition is what delivers results. When you give your skin what it needs, your health will naturally shine through the real you, bringing out your beauty.
THE 4 PILLARS OF OUR BRAND:
We believe that skin care should be simple, luxurious, effective and safe.
Our products are different than other brands. SOCO products are super loaded with vitamins, essential fatty acids, and antioxidants at a higher concentration as opposed to many other skin care companies that not only dilute the important ingredients with cheap fillers but lack quality ingredients all together. That's why we've packed more nutrition into each product, like superfoods for your skin.
Most beauty companies try to sell you way more products than you need, smothering your skin with unnecessary layers of creams & gels that end up clogging pores and worse. We stand for the opposite: We believe if you give your skin the nutrition it needs then you can use fewer products, even lessening the need for makeup. We also use oils as our moisturizers instead of cream, because we have discovered that oils are superior in their ability to be absorbed and deliver nutrients to the deeper layers of the skin.
Our 3 signature skin care products SOCO Symphony, SOCO Black Lava Scrub and Citrus Gem Facial Cleanser are designed to be a 3 part simple skin care system - For best results, alternate your cleansing routine with the cleanser and scrub. Then use the SOCO Symphony: only 1 layer for your moisturizer both day and night. More nutrition, simplified luxury, delivering results.
SOCO Botanicals products are 100% nontoxic. Even our preservatives are not harmful to your skin. Our chief formulator has 25 years of experience with nontoxic preservatives, which is an art in itself. We are against 'raw' skin companies that don't use preservatives, because preservatives are important to prevent mold and bacteria! That's why we spend the extra money to develop products with effective but safe, nontoxic preservatives.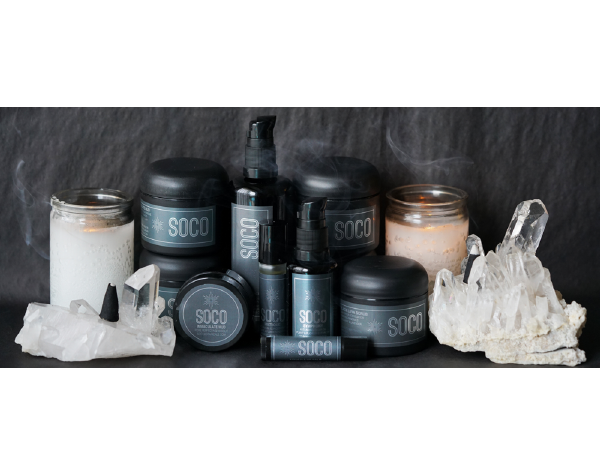 Austin, Texas Company & Handmade in the U.S.A.
SOCO Botanicals is an innovative & natural product line from Austin, Texas. We employ an all female C-suite team and enjoy being a part of the vibrant Austin business community. All of our products are made in small batches to preserve freshness.

Cruelty Free & 100% Nontoxic.


View Collection